Hair thinning and baldness are two quite common cosmetic concerns among men and women. Hair loss occurs due to many reasons but all of those who suffer from hair thinning and baldness want to cure it effectively. There are many remedies for hair loss but the only perfect and permanent solution for baldness is hair transplant. Various techniques are used for hair restoration with varying degree of success. These include both surgical and non-surgical techniques. The latest surgical hair restoration method being practiced successfully worldwide is Stem Cell FUE hair transplant. Here you will come to know "How is Stem Cell Hair Transplant done?"
What is Stem Cell FUE Hair Transplant?
Stem cell hair transplant is a new kind of hair transplant, which is very beneficial to regrow hair in the bald area. It is a minimally invasive surgical procedure in small portions of donor grafts (stem cells) are extracted from the donor area using a specially designed mechanized punch tool. These grafts are then placed in the recipient area using that same precision tool.
To implant hair is the scalp; the receptor area is prepared with the help of the same precision instrument. Small holes are made in the scalp where you want to grow hair and the stem cells taken from the recipient area are implanted in this area. The wounds resulting from graft extraction are small enough that heal completely within two to three days. The patient fully recovers within five to seven days and after nine months patient gets fully grown hair on the bald scalp.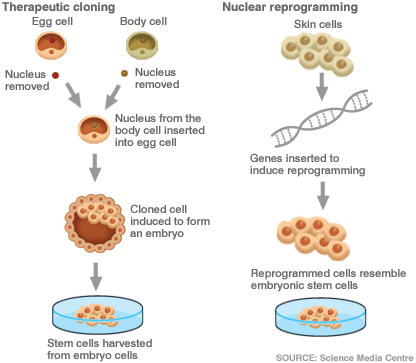 Why Stem Cell Hair Transplant?
Stem Cell Hair Transplant is a minimally invasive procedure and the most comfortable technique for hair transplant among all the procedures.
The patient does not feel any pain and discomfort during and after the treatment, unlike surgical procedures.
The procedure does not involve any cuts, incisions, stitches, and blood.
This treatment does not cause any scarring at all.
It does not result in any bumpy or unsightly surface of the scalp.
Advantages of Stem Cell FUE Hair Transplant:
Stem Cell Hair Transplant has no disadvantages if every aspect of the procedure is performed effectively and properly.  It is the only procedure that offers a number of unique advantages. The biggest advantage of Stem Cell FUE Hair Transplant is that after surgery the donor area retains hair growth and density, unlike other hair transplantation techniques. Besides that, the surgery can also be repeated if needed in the future.
This treatment is also suitable to restore hair in other areas like eyebrows, mustache, beard, burn wounds and scars.
Some other advantages of the Stem Cell Hair Transplant are given below.
The treatment is less painless because anesthesia is applied prior to the procedure.
Hairs grow in the donor area completely.
The donor area heals completely within two days.
The treatment gives natural looking results.
Receptor area heals completely within five to seven days.
This procedure is also suitable for the treatment of facial areas.
It is also suitable for the treatment of scar tissue.
It is also suitable for the treatment of burn wounds.
Multiple treatments are also possible because donor area regrows.
Schedule a FREE CONSULTATION:
To know about Stem Cell Hair Transplant or for expert advice, schedule a FREE CONSULTATION now with our highly skilled surgeons and get your queries answered by our experts. To book an appointment, fill the form below. It will hardly take a minute to fill the form.